Container-Based Modular Buildings
Shipping containers make excellent building frames: they are extremely strong, very durable and designed to stack. Many of the complications of building with standard building frames can be avoided by using containers. They are also less expensive than traditional frames, making containers both a structurally and financially sound option. ECLIPS can produce and deliver containers faster than you could build a conventional frame yourself. ECLIPS can arrange the containers on your site, at your convenience and to your specifications.
ECLIPS' container-based modules can be customised to your specific needs. They can act as anything from a basic frame to a fully integrated part of your building's aesthetic design.
Cyclone Shelters
ECLIPS' Transportable Emergency Cyclone Shelter, based on the Queensland Government Design Guidelines for Queensland Public Cyclone Shelters, is designed to provide a safe environment for the duration of a cyclone, inclusive of wind Region D rated areas. ECLIPS' innovative design uses a core of four modified shipping containers, upgradable with additional container pairs to suit larger occupancy requirements.
Using modified 40 ft high cube shipping containers, each module includes a weighted inbuilt footing system, passive ventilation and non-reliance on external power. The modules are designed such that they come in pairs and are attached to each other to provide additional mutual support as a joined structure. This means that the modules are fully transportable; only ground preparation is required for installation.
Millions of dollars are wasted each year proactively and progressively evacuating staff during cyclone alerts. Until now, there has been no alternative option as total evacuation cannot be left until the last minute. ECLIPS' Transportable Cyclone Shelters provide a mechanism to maintain safe operations for longer periods and mitigate wasted travel expenses. A module pays for itself in the management of one cyclone alert, regardless of whether the cyclone crosses the coast.
ECLIPS can customise the shelters to meet your requirements.
Training Systems
Reconfigurable Urban Operations Training System (RUOTS)
Designed to recreate a realistic urban warfare environment, the Reconfigurable Urban Operations Training System (RUOTS) is a patented ECLIPS design that offers everything a defence training facility needs.
The RUOTS consists of several types of modules, all with differing capabilities. We can construct buildings with movable doors and windows, as well as internal staircases or even an external ladder to the roof.
Rapid transformation. Each door aperture in the RUOTS can be fitted with a variety of fittings. To convert a doorway to window or any other conversion takes only seconds. ECLIPS provides inserts for doors, windows, solid walls and frangible entries for simulated explosive entry. The easy and rapid conversion prevents trainees from learning the course and each training exercise can be completed with an effectively different layout.
Reconfigurable. Standard ISO shipping container construction allows the modules to easily be moved, reconfigured or taken to another site. This is a huge advantage over traditional bricks and mortar construction.
Realistic. The RUOTS modules are designed to be as realistic as possible. The layout and configuration are designed to emulate real environments and every effort has been made to keep the system realistic. The doors can be kicked in (and repaired in seconds), windows can be smashed and there are blind corners, multiple levels and roof access.
Expandable. The modular design of the RUOTS allows easy future expansion. Many of our clients start with small configurations (just a few buildings) and expand later.
Cost Effective. The RUOTS is a very cost-effective solution to military and police training. Permanent buildings are much more expensive to construct and lose the reconfigurability of the RUOTS. Our container-based system is extremely fast to build, cheap to purchase and maintain and can be reconfigured and transported as easily as any standard ISO shipping container.
Safety. Roofs with access are reinforced and have safety rails. All stairways have balustrades and there are no sharp edges or corners. The strength of shipping containers allows the structure to take a significant impact without compromising the structural integrity of the module.
Environmentally Friendly. The anchoring system used by ECLIPS doesn't require asphalting, concreting or even a perfectly level site. The anchors dramatically reduce the need for site preparation, reducing the cost and environmental impact associated with it.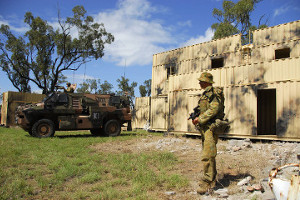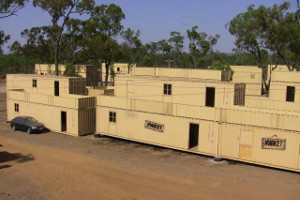 Generator Containers
ECLIPS can design and fabricate transportable containerised generator modules tailored to customer requirements.
In a recent project, ECLIPS designed and delivered the Containerised Diesel Generator Training Modules specifically to meet the requirements of the Royal Australian Navy. Within a standard 20 ft ISO shipping container, each transportable training module featured a diesel generator set with bunded floor, load bank, overhead gantry rail and hoist, power, ventilation and fire suppression systems. The double-opening container doors on both sides of the module increase ventilation and allow greater access to the generator for maintenance.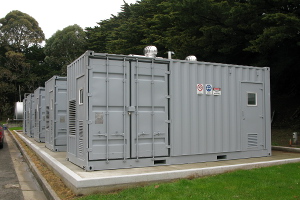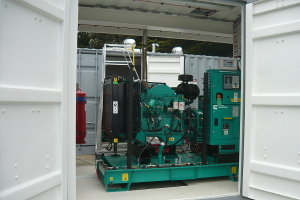 Other Training Facilities
ECLIPS also builds other training facilities from dive tanks to laboratories to classrooms.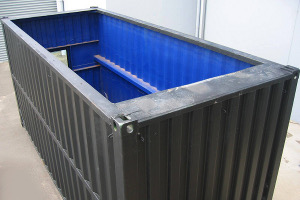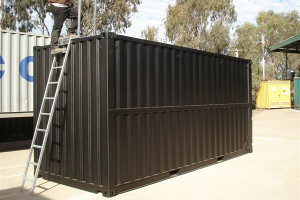 Camps
ECLIPS has access to world-class production facilities and has the project management and engineering capability to deliver transportable camps of any size. Our specialty is in rapidly deployable high-quality modules: perfect for large-scale camps.
Deployable Operating Base System (DOBS)
ECLIPS' Deployable Operating Base System (DOBS) is a modular operating base constructed from a variety of shelters, accommodation, mess room, essential services and communications modules. The DOBS can be configured to suit any operation.
Bases are created from basic blocks which can be configured to the requirements of any specific operation. Each of the modules is based on standard shipping container sizes, allowing rapid and easy deployment. The modules can be transported by standard trucks, rail or by sea.
The DOBS system has four guiding design principles:
Modular and Scalable. The DOBS is based on ISO standard shipping containers, allowing buildings to be stacked, joined and extended in endless combinations.
The DOBS can be tailored to the mission, whether military, humanitarian, disaster relief, peacekeeping operations or any other task.
Rapidly Deployable. By using the ISO standard shipping container footprint, all the intermodal DOBS modules can be transported by road, rail and sea. These modules can be transported easily and efficiently worldwide. All the modules ship ready to be installed and used. In less time than it takes to construct a conventional camp, an entire DOBS system can assembled and operating.
Self-Sustaining and Sustainable. The DOBS is a fully self-contained system. It includes water, power and waste facilities and does not require any external services. The DOBS also has minimal environmental impact: it does not require sites to be sealed, it treats waste and does not degrade the surrounding environment.
Modular Kitchen
The ECLIPS Modular Kitchen can be customised to meet any customer requirements from small bespoke transportable kitchens through to large mine-site camps. ECLIPS has the capability to provide turnkey solutions incorporating dining/mess facilities and provision of all services and amenities through our transportable building and design team. The successful completion of the Wodgina Kitchen Expansion Project on Atlas Iron's Wodgina mine site in early 2014 showcases the unique solutions and expertise ECLIPS brings to the transportable building industry. This kitchen building is rated to withstand cyclonic wind speeds up to 326km/h (region D, importance level 4) and demonstrates the large potential application for container-based construction in cyclone prone areas.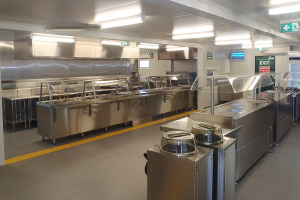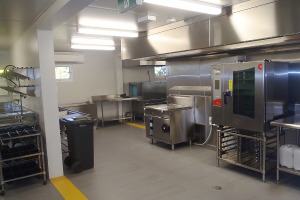 Home and Office
ECLIPS custom builds strong, practical and affordable homes, granny flats, studios, office buildings and home offices. ECLIPS offers modules based on regular shipping containers or flat pack containers, as well as extra wide modules up to 3.4 metres wide.
The internal fit out of the modules can be customised and once completed transform the modules' aesthetics. The inside of the modules can appear no different to a regular building. The modules' exterior can either be left as exposed container walls or covered with cladding. Pitched or skillion roofs can also be fitted.
These modified container buildings are easy to transport and assemble, reducing logistics and installation costs. The durable nature of shipping containers means they can be expected to last for decades, and if you move, you can pick up your containerised building and take it with you.
ECLIPS offers flat pack containerised buildings that provide a cost-effective and efficient building method. These 20 ft modules can be configured with internal walls, bathrooms and kitchens and joined together in multiple configurations to meet your requirements.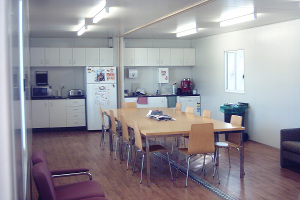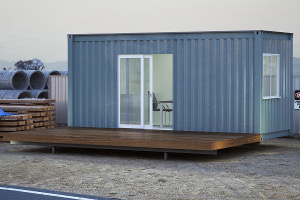 Flat Packs
Flat Pack containers are fully insulated, light, durable, affordable and come standard with double glazed windows. Each module expands to a full 20 ft (6 m) container, but packs down to a quarter of its height. This means four modules can be shipped for the cost of a single container.
This innovative product is perfect for temporary or permanent housing, offices and storage.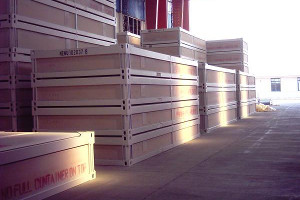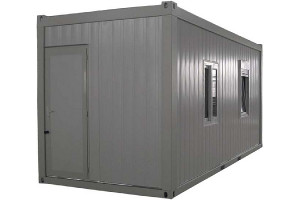 20 ft Flat Pack tearsheet