Deployable Capabilities
Rapid Deployment Shelters
ECLIPS offers a range of Rapid Deployment Shelters based on one of the following methodologies:
Modified Standard ISO Shipping Containers
Roll-Out Expandable Shelters
Fold-Out Expandable Shelters.
Modified Standard ISO Shipping Containers
This approach utilises the full suite of ISO shipping container variants as well as fabricating container structures outside the ISO footprint in order to meet specific functional requirements. This option is the most cost-effective and robust capability, where the fixed internal space meets the specifications.
Roll-Out Expandable Shelters
ECLIPS' Roll-Out Shelter is the most robust of our expandable shelters. Available in single or double Roll-Out depending on spatial requirements, they are also our fastest module in terms of setup time which only takes two people about 10 minutes.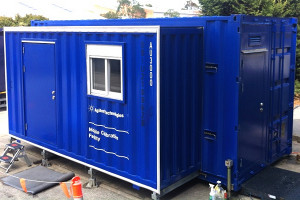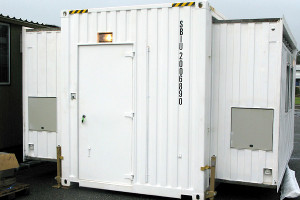 20 ft Double Side Roll-Out Shelter tearsheet
Fold-Out Expandable Shelters
ECLIPS' Fold-Out Expandable Shelter is an extremely popular, lightweight variant that is in service with many military and emergency services organisations around the world. These can be provided as either 20 ft or 10 ft (Bicon) structures.
Deployable Operating Base System (DOBS)
ECLIPS' Deployable Operating Base System (DOBS) is a modular operating base constructed from a variety of shelters, accommodation, mess room, essential services and communications modules. The DOBS can be configured to suit any operation.
Bases are created from basic blocks which can be configured to the requirements of any specific operation. Each of the modules is based on standard shipping container sizes, allowing rapid and easy deployment. The modules can be transported by standard trucks, rail or by sea.
The DOBS system has four guiding design principles:
Modular and Scalable. The DOBS is based on ISO standard shipping containers, allowing buildings to be stacked, joined and extended in endless combinations.
The DOBS can be tailored to the mission, whether military, humanitarian, disaster relief, peace keeping operations or any other task.
Rapidly Deployable. By using the ISO standard shipping container footprint, all our intermodal DOBS modules can be transported by road, rail and sea. These modules can be transported easily and efficiently worldwide. All the modules ship ready to be installed and used. In less time than it takes to construct a conventional camp, an entire DOBS system can assembled and operating.
Self-Sustaining and Sustainable. The DOBS is a fully self-contained system. It includes water, power and waste facilities and does not require any external services. The DOBS also has minimal environmental impact: it does not require sites to be sealed, it treats waste and does not degrade the surrounding environment.
Flat Packs
Flat Pack containers are fully insulated, light, durable, affordable and come standard with double glazed windows. Each module expands to a full 20 ft (6 m) container, but packs down to a quarter of its height. This means four modules can be shipped for the cost of a single container.
This innovative product is perfect for temporary or permanent housing, offices and storage.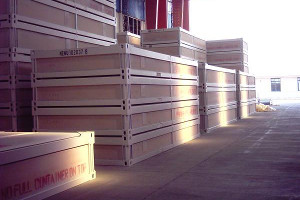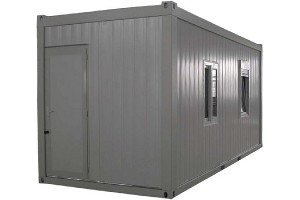 20 ft Flat Pack tearsheet

Joint Modular Intermodal Container (JMIC)
Developed for the military, the Joint Modular Intermodal Container (JMIC) is a collapsible, joinable and reusable logistics and storage container. Using the JMIC provides significant efficiencies throughout the supply chain:
rapid access and assembly of loads — eliminates resource intensive cargo handling
interlocks with other JMICs — eliminates the need for additional securing hardware
collapsible and reusable — reduces space requirements for reverse logistics and storage
Designed to be transportable on as many military platforms as possible, the JMIC is MHE compatible (forklift and pallet truck) and top-lift capable. The JMIC's top and side panels are removable, allowing easier access to contents than previous box-in-a-box solutions. Stackable, lockable and with provisions for RFID, the JMIC is an efficient logistics solution. Multiple models are available to meet specific technical requirements.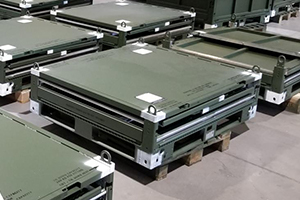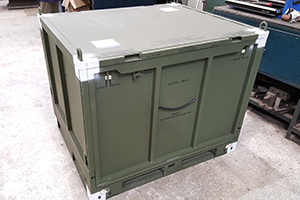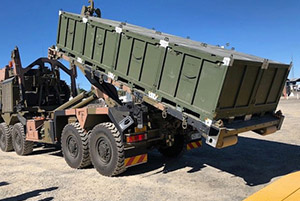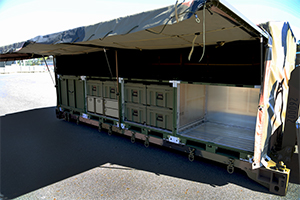 JMIC tearsheet
Portable Grandstands
ECLIPS offers cost-effective and efficient seating solutions. The modular design of the portable grandstand allows the nested modules to form an ISO container size and footprint, meaning easy transport and rapid installation. Compliant with applicable AS/NZS standards and safety regulations, the pre-fabricated modules are robust, all-weather, low-maintenance and stackable for warehousing/storage.
View the 40 ft portable grandstand display modules in our Showcase.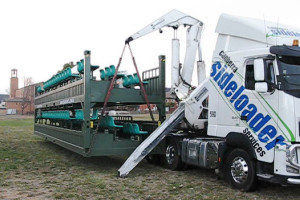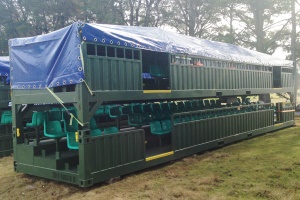 40 ft Grandstand (Type 5) tearsheet