Purpose-Built Logistics Platforms
ECLIPS offers a range of flatracks, logistics platforms and fully Intelligent Load-Handling System (ILHS) / Demountable Rack Offload and Pickup System (DROPS) / Palletised Load System (PLS) compatible containers. In addition to off-the-shelf platforms, we also supply purpose-built logistics platforms: CROWS™ and PILS™.
CROWS™
ECLIPS's Container Roll-Out Warehousing System (CROWS™) is an inter-connectable, all-steel, cargo-carrying platform and field warehousing system. Available in 20, 40 and 45 ft variants, CROWS can be rolled in and out of standard ISO shipping containers, or can be transported on a flatbed truck/trailer or MAFI trailer.
Laden CROWS can be stacked two or three high for transportation, potentially tripling shipping capacity. CROWS can be stacked up to four high for warehousing, or nested up to fifteen high when not in use.
The CROWS advantage:
Reduces quarantine risk: everything is containerised and secure
Enhances logistics efficiency: reduces time to load, crane lifts and personnel required
Mitigates safety risks by reducing crane lifts
Optimises the load space used in TEU assets, reducing the quantity of assets required for the operation and freight packages
Reduces the environmental footprint of a project through rationalised lay-down, storage and dispatch areas (warehousing capability)
Reduces project costs: logistics speed and efficiency, optimising container space and minimising the need for repackaging loads from supplier to end user all contribute to reducing project expenditure.
CROWS™ is a trademarked and patent-protected product.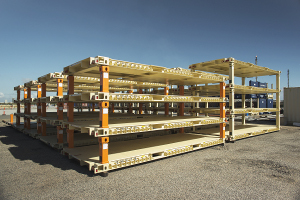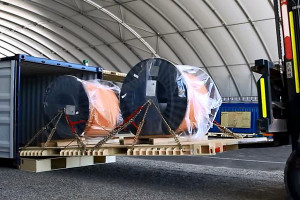 CROWS Corrosion Control Cover (C4)
Protect valuable cargo with the CROWS Corrosion Control Cover (C4). Manufactured from Intercept Technology™ materials using state-of-the-art corrosion protection, the C4 provides active unparalleled protection for enclosed cargo on 20 ft and 40 ft CROWS with 3 ft or 4 ft legs.
Designed and manufactured in Australia, the C4 provides multi-material protection (metals, plastics, rubber and electronics) and is reusable, quick to assemble, quarantine friendly, UV stabilised and water resistant. The load is inspectable and accessible at all times throughout the supply chain.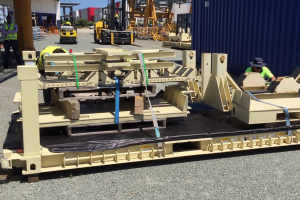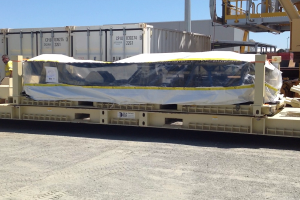 20 ft CROWS MK-1 tearsheet

20 ft CROWS MK-2 tearsheet

40 ft CROWS MK-1 tearsheet

C4 CROWS Cover tearsheet
PILS™
The Pipe Intermodal Logistics System (PILS™) is the next innovation in the evolution of line pipe carrying technology from ECLIPS.
PILS significantly reduce the number of handling lifts per pipe, from the pipe fabricator to the trench, potentially resulting in considerable cost and safety benefits. PILS utilise the structural integrity of the pipe in order to reduce the overall logistics footprint, while decreasing costs and mitigating any environmental impact. Each PILS clamp configuration fits into the 20 ft ISO container footprint, enabling integration into existing road, rail and shipping logistics systems, reducing transport times and costs while enhancing established transport safety systems.
The PILS advantage:
Cost savings
Time and schedule benefits
Covers whole supply chain from fabricator to trench
Improved safety due to reduced number of lifts and secure on-ground stacking
Integrates into existing ISO transport systems
Warehousing capability.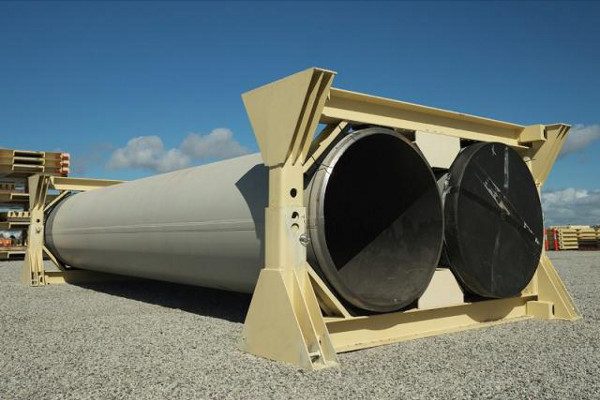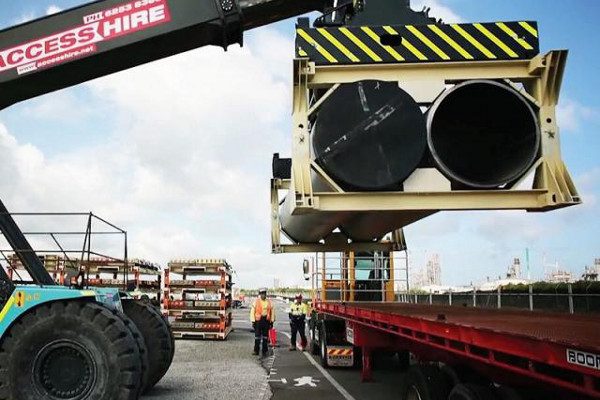 PILS brochure

PILS14 tearsheet