About Us
In August 2015, ECLIPS diversified through the formation of a new, but integrated company, ECLIPS Logistics Pty Ltd. ECLIPS Logistics is an integrated logistics and project management company, delivering innovative technical solutions for digital supply chains. This includes usage and condition monitoring as well as Automated Identification Technology (AIT) for installed or in-transit assets. ECLIPS Logistics provides supply chain optimisation services, remote infrastructure solutions and ILS professional services. ECLIPS Logistics is a technology company with a focus on solving problems through standardisation and data to facilitate knowledge-enabled logistics management.
ECLIPS Pty Ltd and ECLIPS Logistics Pty Ltd are collectively referred to as "ECLIPS". Based in Canberra, Australia, ECLIPS has staff in Brisbane, Melbourne and Perth with a growing international presence. ECLIPS has a strong global partner/distributor network that can be leveraged for a wide variety of products and services. ECLIPS is an integrator of other specialists to provide an end-to-end solution to a customer's problem.
Services
Strategic Consulting
Proposal and Bid Support
Program and Project Management
Integrated Logistic Support (ILS)
Product development specialists
Benefits of Working with ECLIPS
ECLIPS will succeeds in its projects due to:
clear vision on digital supply chain capabilities relevant to Defence
mature business procedures that are ISO 9001:2015 Quality certified
ECLIPS has assembled the right partners and suppliers to deliver the future digital supply chain
ECLIPS has proven performance in Defence innovation projects, including RPDE tasks and DIH
initial trial results of the JMILS capability within the Australian Army has been very positive and the additional digitalisation capability is a logical next step that Army and Defence have identified
opportunity to learn from international defence users.
Products
Unique Identification (UID) Labelling
ECLIPS recommends UID barcoding and RuBee magnetic AIT. Labelling controlled stores with UID barcode labels will ensure compliance with best practice labelling requirements ensuring greater accountability of sensitive items. Fitting RuBee magnetic AIT tags to select weapons and equipment enables automatic asset visibility and counting of weapons and equipment secured in armouries or other designated locations. Process automation represented by the RuBee Armory 20/20 system ensures accountability of assets while reducing the manual labour effort required to count and manage equipment. ECLIPS is also developing a mobility solution for controlled stores, which includes the integration of RuBee products in ECLIPS's Joint Modular Integrated Logistics Solution (JMILS). This will help provide total asset visibility throughout the supply chain, including shipping. ECLIPS provides a range of services related to barcoding, including development of marking specifications, data reconciliation and label installation.
Automated Identification and Tracking (AIT)
RuBee is an active, wireless, Near Field Communication AIT that uses magnetic waves for communication. Developed by US company Visible Assets, Inc, RuBee was purpose-built for AIT applications and does not use Radio Frequency fields. RuBee provides peer-to-peer volumetric communication; it is not line-of-sight, which means it operates in harsh environments, including inside confined environments, such as ships, shipping containers, metal shelves, underwater, metal containers, etc. This provides significant advantages over Radio Frequency Identification (RFID) and similar communications protocols for AIT applications. The RuBee protocol is an international wireless standard, IEEE1902.1 and the tags have passed stringent safety and security tests conducted by US Department of Defence. RuBee tags have a range from 1 to 15 metres and have a very low power demand. The batteries in the small tags can last up to 25 years. RuBee tags can also be fitted with a programmable micro-processor, which represents significant opportunity to fit other prognostic sensors. In addition to asset identification, the RuBee SuperSensor tags currently enable monitoring of environmental conditions including shock, vibration, temperature, humidity and pressure. There is also a shot counter tag for fitting to weapons, which is useful in planning maintenance activities.
RuBee uses magnetic fields, has no significant RF energy and has the following advantages:
RuBee is not blocked by steel, JMIC or other transit cases
RuBee is not blocked by liquids, snow or dirt
RuBee has no Hazard of Electromagnetic Radiation to Fuel or Ordnance (HERF/HERO) risks; it is safe on and near explosives
RuBee is the only wireless technology (tags readers, and handhelds) that has a zero safe separation distance (SSD) on HERO unsafe assets. In Navy tests and independent tests carried out by the US Department of Energy (DoE) and Sandia Labs, all conclude that RuBee wireless tags are safe on and near any fused ordnance
RuBee is the only wireless technology approved by the US DoE for use on nuclear warheads
RuBee wireless sensor tags have up to a 25-year battery life, meet MIL-STD 810F, ATEX Zone 1, IEC-60079 Class IIC, and IP67
RuBee tags have no Compromising Emanations so have no TEMPEST target or eavesdropping risk.
ECLIPS provides a range of services related to AIT, including development of solutions and integration to existing services and infrastructure.
Health and Usage Monitoring (HUMS)
Telematic Monitoring Systems (TMS) and Condition Based Maintenance (CBM)
Telematic Monitoring Systems (TMS) involve capturing condition and usage data from sensors and other diagnostics systems and sending that real-time or near real-time data to a designated point using integrated communications systems. The data can be used to support Condition-Based Maintenance (CBM) programs, including on-site and remote diagnostics.
The primary benefit of implementing Telematic Monitoring Systems and Condition-Based Maintenance practices on ADF equipment is the prevention of catastrophic failures.
Despite all the equipment being of high quality, reliability principles indicate that failures can occur at any time. Monitoring the changing condition of weapons and subsystems means that many of those failures can be predicted and therefore prevented, saving significant costs on equipment downtime and repair. In its simplest form, TMS can be used to provide usage statistics to help fleet managers gather data on usage that will support fleet rotation and maintenance planning.
Individual Emergency Water Purification System (IEWPS)
The ICON LifeSaver® Liberty™, the world's only portable water purification bottle with in line pump combined with storage of 400 ml, is compatible with the CIS bladder and most quality bladder and bottle systems. The filter is able to be easily replaced by the operator. Due to the extremely long life of each filter less replacement filters are required to be carried by the soldier, further reducing the logistics supply chain assets required to ensure clean and safe water access. The ICON LifeSaver® filter technology has passed the MilSpec requirements for the UK MOD and US DOD.
LifeSaver® Liberty™ removes:
Virus – 99.999%
Bacteria – 99.9999%
Cysts – 99.99%.
The LifeSaver® Liberty™ has been independently tested to exceed full National Sanitation Foundation (NSF)/American National Standards Institute (ANSI) P231 and World Health Organisation (WHO) 2011 'Highly protective tier' drinking water standards.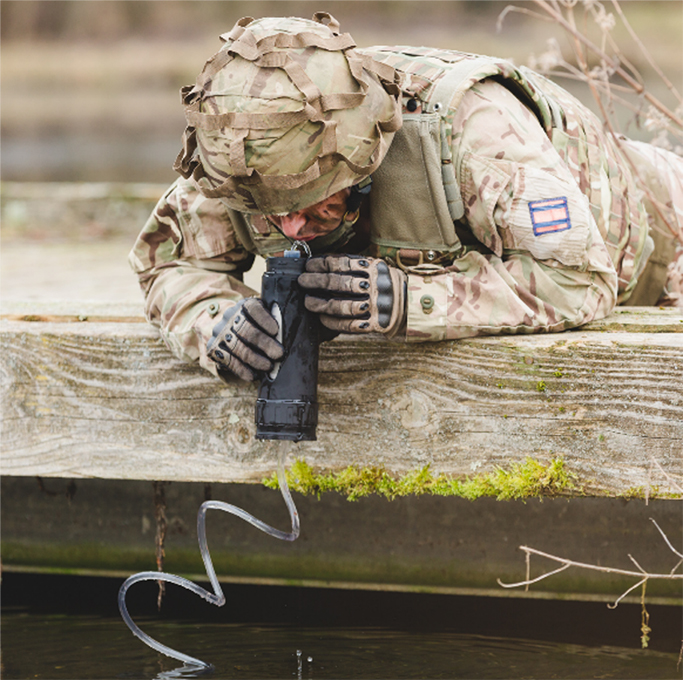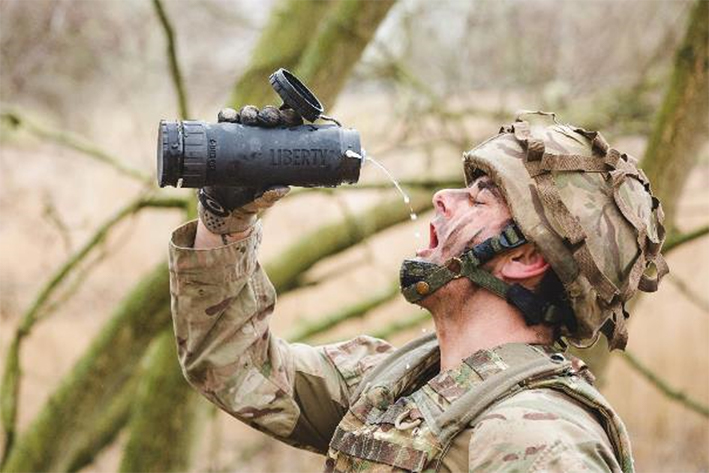 The ICON LifeSaver® Liberty™. An Individual Emergency Water Purification System (IEWPS) in service with the British Army the ICON LifeSaver® range of water purification systems represent the latest in technology using the Patented Hollow Fibre Membrane and FailSafe technology.
Small Team Water Purifier
The ICON LifeSaver® Jerrycan Black, Tan, Dark Green or Dark Blue with 20,000 litre filter (NSN 7240991738276) has proven to have saved lives in Afghanistan through the ability to win water at the lowest tactical level in quantities that have enabled dehydration to be managed. In Afghanistan, when LifeSaver® was used, there was a significant reduction of D&V and other diseases caused by previous consumption of contaminated water.
The British Army used the ICON LifeSaver® Jerrycans in Afghanistan where 300 x Jerrycan 20,000 L were supplied to Camp Bastion in 6 batches of 50 units, they were deployed to remote Forward Operating Bases (FOBs) and carried on vehicles. In addition, UK Special Forces are using the ICON LifeSaver® in jungle camps in Belize and Brunei. There are 30 x ICON LifeSaver® Jerrycan with the British Ghurkhas in Nepal with repeat orders anticipated in 2019. In addition to the in-service use by the British Army, ICON LifeSaver® have delivered over 18,000 ICON LifeSaver® Jerrycans to Humanitarian aid since 2010.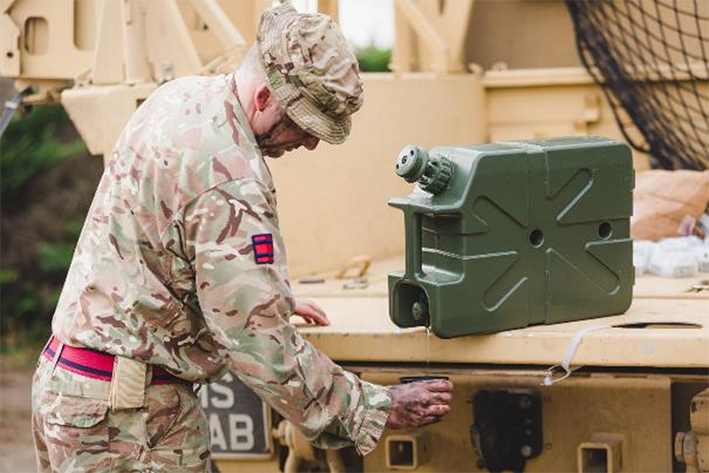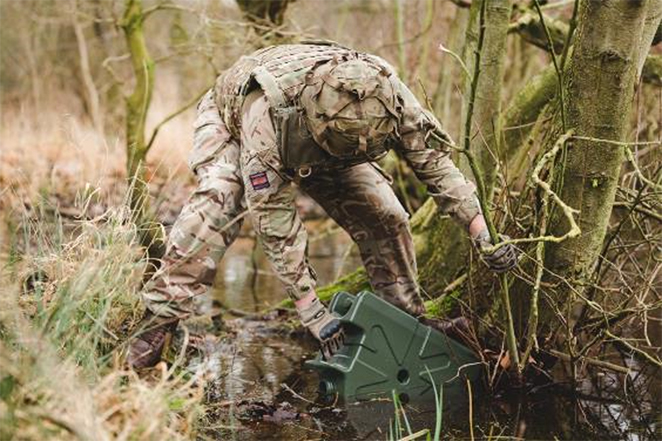 The ICON LifeSaver® Jerrycan improves environmental health conditions. The jerrycans do not have a mouthpiece so soldiers can fill their personal equipment with clean water rather than cross contaminating.
Ancillary systems
A range of ancillary systems have been and are being developed for the ICON LifeSaver® Jerrycan.
The following additional ancillary systems are available as part of the Small Team Water Purification System:
Jerrycan 20,000 litre replacement filter cartridge NSN 4610994796669
Jerrycan scavenger pipe
Jerrycan shower attachment NSN 4510993002776.
The innovative shower attachment has been widely used in Afghanistan and has provided a useful tool to extend the range of Patrols through the ability maintain a high level of hygiene by using local water sources with a high degree of confidence.
The reduction in water resupply has significant Force Protection advantages.
Current Projects
Digitalisation of Joint Modular Intermodal Logistics System (D-JMILS)
Digitalisation of JMILS (D-JMILS) involves the integration of location and condition monitoring sensors using intrinsically safe RuBee magnetic near field communications to the Joint Modular Intermodal Logistics System (JMILS). JMILS is a series of modular, intermodal, scalable, interconnectable logistics packaging and platforms designed to move efficiently through the Defence supply chain and are compatible with Army's LAND 121 vehicles, including the HX77 ILHS truck and 40M.
The aim of D-JMILS is to enable adaptive and focused logistics support through a digitalised and integrated packaging solution in order to improve equipment Operational Availability rates and reduce Through Life Support costs. D-JMILS will isolate and reduce the Logistic Delay and Administration Delay time that greatly impacts Operational Availability.
By integrating the RuBee Automatic Identification Technology (AIT) visibility software application with SAP the real-time data collection enables logistics process automation, near real-time decision support and contributes to a Logistics Common Operating Picture (LCOP).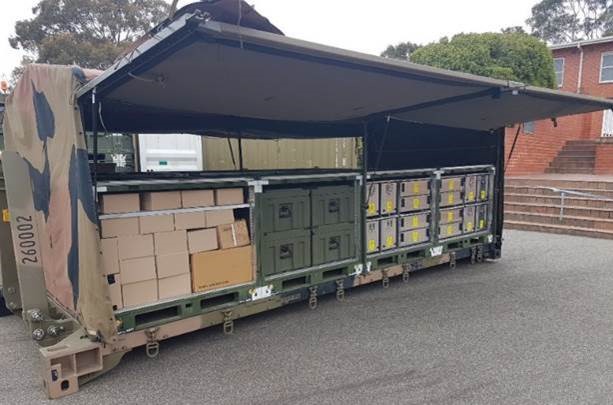 Using the modular JMILS hardware, ECLIPS is now installing AIT to allow in-transit visibility from factory to firing point, including warehouse and stores accountability. This will improve operational availability while reducing administrative downtime. The system will improve accountability, efficiency and combat effectiveness through improved reporting and visibility.
Army Headquarters Codification and Unique Identification (2019-ongoing)
ECLIPS provided professional services to remediate codification data and uniquely identify a range of products for the Australian Army. Services included engineering required to inform codification. UID barcode labelling has included the labelling of almost 200,000 assets. This project, run out of Army Headquarters (AHQ), is a foundation activity for the establishment of a digital supply chain, including the use of AIT. ECLIPS has also supported Army's policy updates in relation to DEF(AUST)1000C for packaging and labelling.
The Team
Matthew Shea
Matthew served 15 years in the Australian Army with multiple operational deployments, training, staff and command appointments. After leaving the Australian Army, Matt was employed as a major projects executive at Parsons Brinkerhoff (now WSP) and Balfour Beatty. Matthew was responsible for the winning, planning, resourcing, management and execution of multibillion-dollar programs in the mining space. His product development experience included leading teams in the design, development, testing and installation of containerised water treatment systems for Indigenous communities and mining camps, through to the automation of mines sites and the introduction of robotic mining equipment. Supply chain optimisation and automation are key areas of focus for Matthew.
Matt Hanlon
Matt served 20 years in the Australian Army with multiple operational deployments, CASG, staff and command appointments. After leaving the Australian Army, Matt was employed in a variety of roles at M5 Network Security (M5). M5 was a very innovative company designing and manufacturing secure mobile communications solutions for defence and government. M5 was eventually acquired by Northrop Grumman, which exposed Matt to a new level of disciplined product development within a quality framework. Matt's roles in Northrop Grumman included Director Programs and Director Products. In the latter role, Matt was responsible for planning product development and through life support for complex communications products and cyber security services. Matt is the director of products at ECLIPS and is the project manager of the D-JMILS project for the DIH. Matt is a thought leader on the development of HUMS and Sense and Respond Logistics (S&RL).
Andrew Constantine, CSC
Andrew served 24 years in Defence as a logistician, with multiple operational deployments, staff and Unit Command appointments. Andrew's final role in Defence was the Executive Director of Joint Logistic Information Systems during the delivery of JP 2077Ph2B.1 and the development of JP 2077Ph2D, as well as being responsible for the sustainment and development of Joint Logistic Information Systems. Upon leaving Defence, Andrew has led large (700+ personnel) teams and managed complex supply chains in Oil and Gas. Andrew has also been the project manager for the roll out of Camcode UID in the ADF and provides supply chain optimisation for large international mining, oil and gas customers.
Mark Redman
Mark has over 21 years' experience in the development, application and delivery of support solutions for Defence and Industry across a variety of environments. A highly skilled supportability and reliability engineer, Mark has a wide range of experience in supportability engineering, Reliability Availability & Maintainability (RAM) engineering, project management and system requirements development. Most recently working for L3Harris as the ILS manager, Mark has been responsible for planning, developing and executing supportability requirements. Mark developed the HUMS policy for the Director General Logistics – Army (DGLOG-A) to provide policy and guidance for the implementation of a common decision framework. Mark is a thought leader on the development of HUMS. Mark is the current General Manager – ILS for ECLIPS.